The dictionary definition of posh is "the quality of being elegant, stylish, or upper class". To me 'posh' used to mean a home counties accent, money to burn and a snobby attitude. I grew up in Bootle and moved to Southport as a teenager. As an adult I moved around the UK a bit before settling in Wirral so hopefully I've got enough experience to qualify an answer.
Is the Wirral posh? It's a real mix and often can be divided even by a street so in some parts yes. However, if you have searched this term because you are curious and looking for a place to live in the Wirral though that's a slightly different answer (which I'll give further down).
Being posh isn't having a home counties accent and a snobby attitude as I once believed, I've met lots of people without a regional accent who are quite snobby and I've also met a lot of 'posh sounding' people who are really down to earth too. The point I'm making is you have to define 'posh' because I believe the perception of 'posh' is not the same as the dictionary definition, is it class / attitude thing or just an accent thing?
Know This: Wirral is Divided Between Merseyside & Cheshire & Has Different Councils
The Wirral is actually split between the county of Merseyside and Cheshire and has different controlling councils namely Wirral County Council and Cheshire West & Chester Council.
Even though this website is officially "Merseyside" targeted it's very difficult to talk about Wirral and keep it on point to only the two thirds claimed by Merseyside so for efficiency I'll ignore this fact for now.
It is claimed that this division is for governmental administration purposes but I do noticed that the strength of the Scouse accent is lessened as you tend to travel toward the south-west of Wirral. Neston in particular has it's own slight local twang which I believe stems from it's colliery days. Ellesmere Port (officially Cheshire) also has it's own local accent. Of course accents vary wherever you go but for the purposes of the article (and in my own personal experience) I thought I'd point this out (nothing against the Scouse accent, I'm a proud Scouser myself).
Places Where You Are More Likely To Hear a "Posh" Accent in Wirral
There are some places in Wirral where local knowledge shows that they are more desirable places to live – if you have the money you'd move there! For example, Caldy where property prices start at £530k for a 4 bedroom detached house (and you'll struggle to find one with less bedrooms and attached to another property) but the people there don't necessarily have a snobby attitude – I've met people from Bootle with a snobbier attitude!
You tend to find non-regional accents anywhere in Wirral but more likely to hear it in:
Caldy
Parkgate
Little Neston
Ness
Heswall
Thursaston
Irby
Raby
Burton
Puddington
Thornton Hough
I guess from days gone by the Wirral was divided by the areas closer to the built up dock yards in Liverpool and city life against the more rural areas in the south of Wirral which was farm land and markets, this division has meant that the Liverpool accent starts to fade as you head toward North Wales and Chester, there's also bigger houses and more open spaces.
House Prices in Wirral
This article has been written for people who want an answer to the question "is the Wirral posh?" and if that's how you find this article you may have various reasons for Googling it – perhaps you are thinking of moving here?
To give you an idea of the type of property prices sold over the last year throughout Wirral, here's an overview of the lowest and highest price for a range of 3 bedroom semi-detached houses in Wirral (taken at the time of writing March 2020).
The locations are spread throughout Wirral to give you an idea of how the price varies from area to area.
| Location | Lowest Price 3 Bed Semi-detached | Lowest Price 3 Bed Semi-detached | Number of 3 Bed Semi-detached Properties Sold in the Last Year |
| --- | --- | --- | --- |
| Wallasey | £50,000 | £310,000 | 703 |
| Birkenhead | £42,000 | £350,000 | 140 |
| Moreton | £87,500 | £220,500 | 133 |
| Bebington | £75,000 | £360,00 | 155 |
| Greasby | £130,000 | £279,000 | 69 |
| Hoylake | £127,000 | £316,000 | 18 |
| Bromborough | £103,000 | £310,000 | 142 |
| West Kirby | £150,000 | £335,000 | 55 |
| Caldy | None | None | 0 |
| Neston | 125,000 | £295,000 | 62 |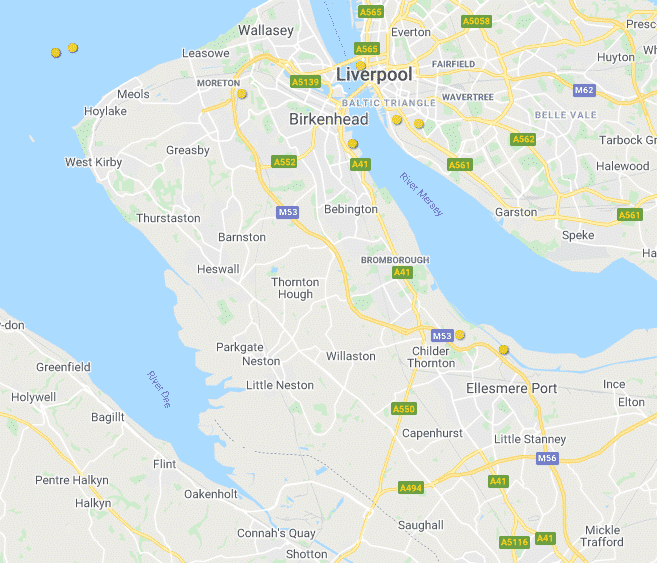 Having lived in Wirral myself now for 15 years it does seem to me that there is a bit of division caused by the M53 motorway which runs right through the middle of the peninsular, there also seems to be a bit of divide by the north and south too in terms of accent, property prices and crime (see below) but there are nice areas and bad areas everywhere.
Case in point – Bebington is on the east side of the M53 and was voted one of the best places to live in the UK back in 2015 and it really is a lovely place but I wouldn't say the people there speak with a 'posh' accent or are snobby in any way.
Crime in Wirral
Again, if you found this article because you searched "is the Wirral posh?" you may be looking for a desirable place to live or you may simply be curious as to the answer which hopefully has already been given.
If you are thinking of moving to Wirral though you may be interested in the local crime rates. Again, a disclaimer, this is certainly not to imply a higher crime rate means the area is not posh but it does indicate arguably a more desirable location to settle in.
The figures above are taken from https://www.police.uk/merseyside/A1A2/crime/+8BmChr/ and show the amount of local crimes committed in February 2020.
Summary
I'd hate to think that I'm pigeon holing or offending people by writing this article, I'm trying to answer the question in a way most people would without judging who is posh and who isn't! We all have a perception of what posh is and isn't and as explained at the beginning of this article you find dictionary definition posh people all over the place and accent has nothing to do with it. However, for people with the perction that posh means a posh accent or a more desireable place to live in terms of crime and property prices hopefully this article answers those points for you.
People Also Ask:
Is the Wirral Scouse?
The accent seems to lighten as you travel toward the Cheshire end or toward North Wales.
What's it like to live in Wirral?
I love it and I've lived in multiple locations throughout the UK. This question will be answered in greater detail in another post but to summarise it's got LOTS of green belt countryside, beautiful beaches, internationally recognised golf courses, central for Chester, Liverpool and Manchester, just off the M56 making a great clear run for the M6, lots of amazing places to visit including Chester Zoo, coastal walks, the Wirral way and lots more – yup it's a great place to live!