Puppies (and dogs) are mans best friend and speaking as a dog lover, I don't think its right that there should be puppies and dogs without a home. I'd like to try and play my part in helping puppies in Perth to find a free good home if at all possible.
But a word of caution, if you are looking for "Puppies Free To Good Home Perth" or something similar you may be out of luck, my recommendation is to consider adopting a dog (you can still find a young dog) and this is because over 87% of puppies bought over the internet end up in shelters. Here's an overview of the process and where you can find the dog that is just right.
Where can you find a puppy or dog online for sale?
I've tried to save you from having to trawl the internet by looking at the search results for you and also finding any other place in the Perth area that you can find puppies for free
1. Gumtree
Gumtree can be hit or miss for a lot of locations when it comes to finding a free puppy but when I searched recently there was quite a lot of choice, none that I could see where free though.
The pandemic has made it that a lot of people want a new puppy or dog and this shows in the results on Gumtree with puppies ranging from £960 to £3,800 which is staggering compared to prices prior to lockdowns and social restrictions.
Depending upon which puppy you are after you will have to fork out unfortunately. The cheaper breads seem to Border Collie puppies starting at £960 and French Bulldog puppies above the £3,500 mark.
You can find the listings on Gumtree at the link below:
https://www.gumtree.com/dogs/perth-and-kinross
2. FreeAds.co.uk
Another free advertisement platform similar to Gumtree and at the time of my research (January), there were 14,890 pets for sale on the site.
This was one of the top Google results and yet I still had to change the filter on the page to show me just puppies and dogs, so I'll put the link below here to save you the time.
The prices on Freeads seem to be similar to Gumtree and there certainly seems to be a large range of puppies for sale.
Sadly, none are free and my objective for this post was to try and help you find a puppy for free but in truth its looking more and more likely that you won't be able to find a free puppy and from the results I can see the cheapest in excess of £500.
I think its important to be careful about owners who sell on free advert websites too. I'm not saying for a minute that they're bad but anybody can put an advert up and its important that your new puppy is fully ready to be transferred away from its mother. This should ideally include being micro-shipped and certainly vacinated.
If you do find a puppy for free, be prepared to have to do this yourself.
https://www.freeads.co.uk/perth-and-kinross/buy-sell/pets/dogs/#.X_c5mdieRPY
3. Pets4Homes
I've had 2 dogs from Pets 4 Homes now and they're a great service.
The site itself is not too different from Gumtree and Free ads but you will find more Kennel Club thorough bred puppies on here and there is the option to filter results for KC Registered dogs.
At the time of search (January) I can see plenty of dogs but very few puppies.
I still recommend you have a look at this site though because they have an adoption section:
https://www.pets4homes.co.uk/search/?type_id=3&location=perth&advert_type=2&distance=30
The link above has already been filtered to show you dogs and puppies in Perth.
Although not free, these dogs (not puppies) are relatively cheaper. So sadly, no free puppies which is now re-enforcing my belief that due to the demand for puppies you may not actually be able to find a free one.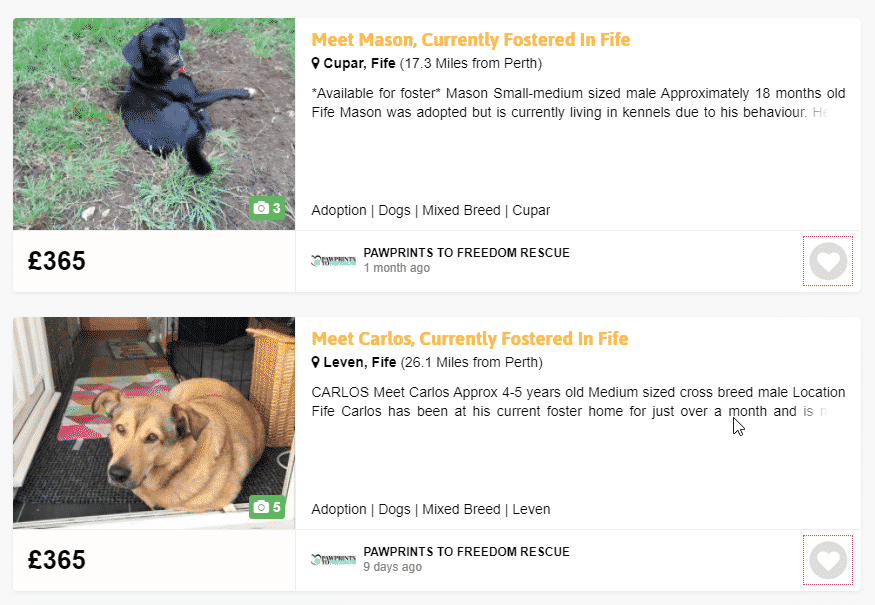 4. News Now
This is a similar website to Gumtree and FreeAds.
There is only a single page of results when I checked so not quite the same amount to choose from and the prices are still pretty high and comparable to the others above.
This wouldn't be my first choice to find a free puppy given the amount of selection but may still worth a cursory check if you cannot find the dog you are after on the websites above.
https://www.newsnow.co.uk/classifieds/dogs-puppies/perth-and-kinross
5. Rescue Scottish Pets
Now this is more like it.
A site which is dedicated to find a new home for animals that have been taken to a shelter.
I implore you to check this website before buying a dog as you will be giving a dog a home that will otherwise be left to hand out and dry.
One of the things I like most about this website is that it culminates several rescue centres and lists the dogs in one place.
https://www.rescuescottishpets.co.uk/Pets/rescue-dogs-scotland
You can click the link above to pay a visit, be warned though you will still be hard pressed to find puppies but you may do.
Please consider a home for dogs too and not just dismiss them because they grew up.
6. Pads Dog Rescue
This is Perthshire Abandoned Dogs Society and another gem as far as I'm concerned.
https://padsdogrescue.com
Located in Forteviot, just a few short miles south-west of Perth they house unwanted dogs and help find them new homes.
Perfect.
They have a rehoming process because a lot of the dogs who end up there may have been mis-treated and may exhibit bad behaviour with their new owners and end up in trouble or back at the shelter.
The staff here really seem to know their dogs and stress many times on their website that they want to pair owner and dog together and will do their upmost to make the right sort of connection.
You can ring PADS on 01764 684491
7. Preloved
Preloved is another classified website and at the time of searching only had 23 dogs and puppies for sale in Perth and Kinross.
I spotted 12 puppies on the site, again in the same sort of price range as the others.
https://www.preloved.co.uk/classifieds/pets/dogs/for-sale/perth-and-kinross
For this reason I think it is worth checking but once again be prepared to have pay for a puppy, you won't find many for free.
8. Dogs Trust
I had to give Dogs Trust a mention even though when I was doing my initial research they did not appear in my search results.
I have to mention them because I think they do a wonderful job and I've had dogs from here in the past (I love dogs).
Here's the link:
https://www.dogstrust.org.uk/our-centres/west-calder/
Not exactly next door to Perth and Kinross but worth the drive if you find the dog you want.
Dogs Trust West Calder
Bentyhead
West Calder
West Lothian
EH55 8LE
Dogs Trust now only allows you to view their dogs online and then make an appointment to view them so please use the link above.
Their phone number is 01506 873459 and opening hours are 8:30am to 17:00 every day.

How to buy a puppy
There is a great guide to buying a puppu from the RSPCA:
Before choosing a puppy you need to realise that they don't stay a puppy for very long!
87% of puppies bought over the internet end up in shelters and puppy farming has grown rapidly over the years due the amount of money that can be made from selling them.
During the Pandemic this was clearly evident as prices hiked at unprecented levels.
It's important that when you buy a puppy you give thought to:
How your new dog will live, where it will sleep and who it will be around. Dogs need exercise and attention, they need a good diet and should not feel threatened.
Where did it come from? It's important that you visit the parents so you can assess how they've been treated. A badly treated mother dog probably means that the pups were mistreated too and habits learnt young are difficult (but not impossible) to break.
Other places you can find a puppy or dog
Adopt a stray a small chairty operating nationwide who are committed to finding the best homes for stray animals.
I've included a link to their website so you can check it out.
In this first instance you will need to fill out a contact form and one of the volunteers will give you a call for a chat about the process and to assess the right animal for you and how they can help your further.
As the name suggests they allow you to adopt a stray, be that cat or dog. I think this is a fantastic idea and urge you to pursue this rather than to find a free puppy which may have been puppy farmed.
https://www.scottishspca.org/rehome/rehome
The Scottish SPCA are Scotlands Animal Welfare Charity and specialise in rehoming rescue animals.
They have a professional rehoming process which includes assessing the animals behaviour prior to being released for availability for rehoming.
They take the time to ensure the animals that come into their care are cared for and bad habits minimilised ready for release back into society. The home that the dog / pet ends up needs to be right for the pet and not just that you can pick and choose whichever animal you want.
As stated above, the vast majority of animals bought over the internet end up back in shelters such as the SPCA, if you find yourself in this situation you can call their animal helpline for advice:
Animal Helpline:
03000 999 999
Other ways you can try and find a free puppy in Perth
Advertise for a "puppies wanted" local Perthshire papers
Although by modern standards this is now considered an older way to advertise for wants and sales, it is still valid and so should be worth looking into.
Put out your own advert for a new puppy
Notice boards, shop windows etc. Be proactive when it comes to looking for a free puppy for a good home and put the word out yourself. After all, it is very difficult to find a free puppy online and there may be local Perth people who don't want to advertise their puppies on the internet. Give it a go.
Unwanted puppies for free
As you can see getting puppies for free isn't easy especially right now because every man and his dog (literally) want a dog, puppies included. This is not just restricted to where you live either as the demand for dogs has grown massively over the last year: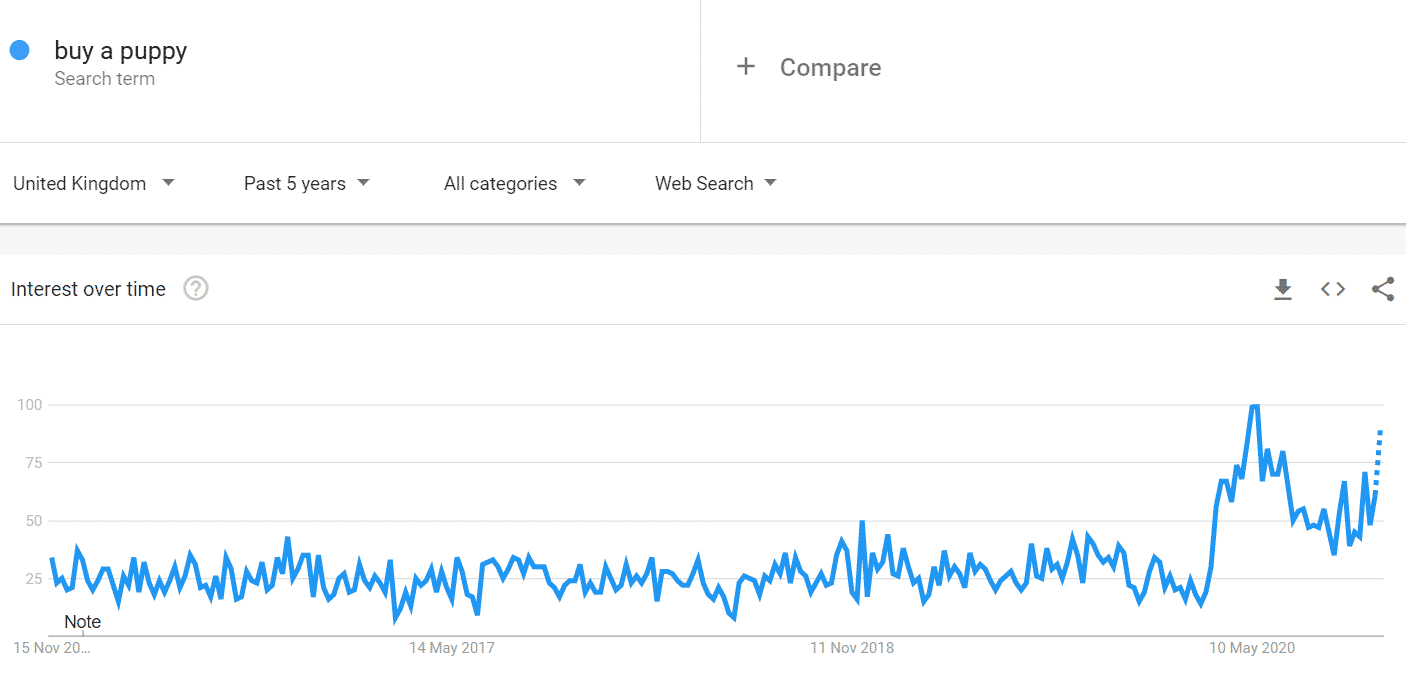 Also see puppy free to good home Tyne and Wear and find a puppy in Wirral and give it a free good home .
If you can help in any way to rehome unwanted puppies and dogs and would like to appear on this post then please get in touch and I will add you.