Selbys Neston Fast Food Takeaway
Website: None
Telephone: 0151 336 8944 (you can click this to call)
Address: 27 High St, Neston CH64 9TZ
Selbys Neston Menu
Selbys don't have an online menu, here is a copy of their latest menu as of December 2020: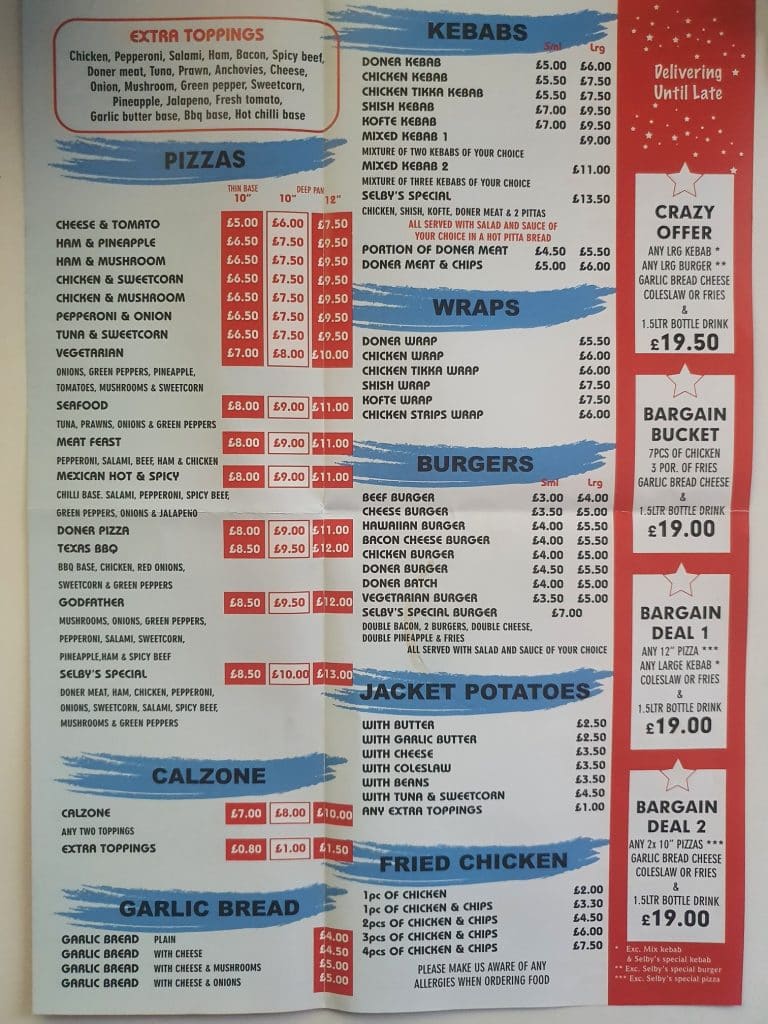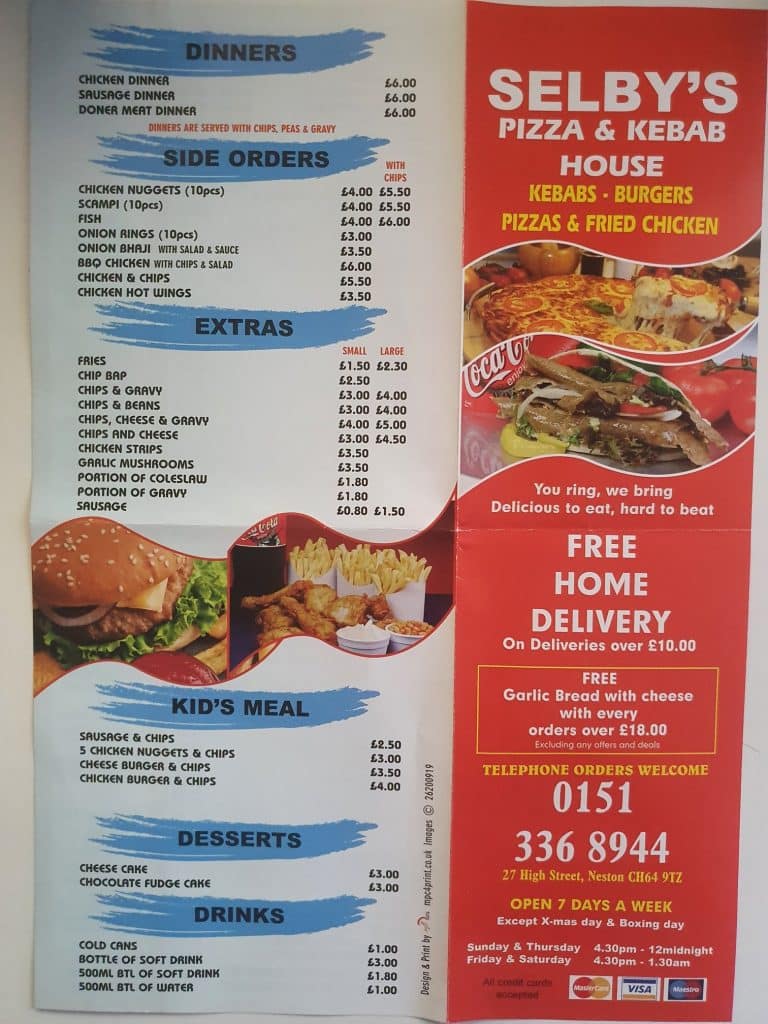 Opening hours:
Saturday
4pm–1:30am
Sunday
4pm–12am
Monday
4:30pm–12am
Tuesday
4:30pm–12am
Wednesday
4:30pm–12am
Thursday
4:30pm–12am
Friday
4pm–1:30am
Also known as: The Star Pizza Kebab House
Information About Selbys Neston
Selby's in Neston is a fast food takeaway place based not too far from Neston cross.
Despite their amazing food they do not appear on of the services such as JustEat or Deliveroo like many of the other local fast food takeaway places.
They also don't have a website or show their menu online.
They do great food though and I personally have been here many times after a few pints in the local pubs including the British Legion after a game of snooker.
One the whole the staff are polite and helpful although seem to prefer to answer the phone over serving the customers in the shop itself (just my personal experience and perhaps doesn't happen all the time).
With the recent closure of many shops in Neston it is great to see the Selbys are still going but with the Dominoes opening a couple of doors down I'm really surprised to see that they are doing so well considering their apparent lack of marketing. I think this is possibly a great testament to their food.
Selbys Google Reviews
At the time of writing there are 58 reviews on Google Reviews with an average score of 4.5 stars.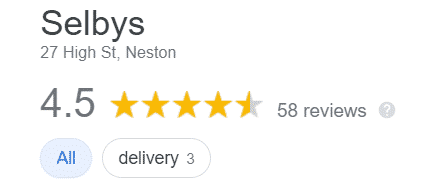 Most people leaving a 5 star review comment on how polite the staff are and how tasty the food is. Many also mention the wide range of food and go on to highly recommend Selbys.
Perhaps the reason Selbys in Neston don't have a full 5 stars throughout is because of one or two negative reviews that bring the overall score down.
Never again very rude on phone never going back again food is not the best but after the abuse on the phone enough is enough

I visited this shop a while ago but wouldn't go in again unless I knew the person who served was different to that who served me. The man who served me was very unfriendly, he looked at me as tho I was dirt and made a disgusting noise in his throat while preparing my food.
Perhaps it is a little unfair to publish just the negative reviews here but it is worth it just so you can make you own mind up, please note that the vast majority of people state how great the food and service is so perhaps the owner was just having an off day (don't we all) and should be forgiven.
Judging by the data being fed by Google the busiest times for the Selbys seem to be around 6pm and then another spike at around 11pm on Friday's and Saturdays which you would expect.
Generally food is delivered quickly with a maximum wait time of around 15 minutes.
Trip Advisor Reviews
You can find listings for Selbys Neston under their old brand name The Star Pizza Kebab House (which is going back some way).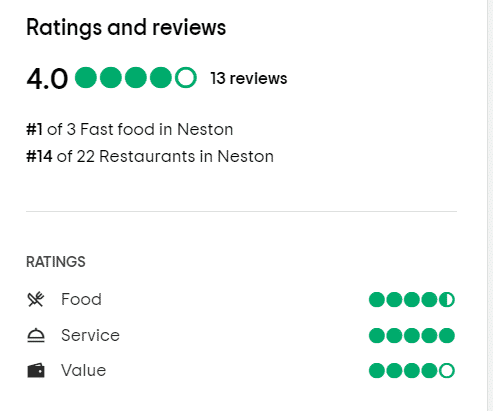 Here's a link :
https://www.tripadvisor.co.uk/Restaurant_Review-g2135808-d5769936-Reviews-The_Star_Pizza_Kebab_House-Neston_Cheshire_England.html
Once again overall the reviews are generally good with people commenting on the wide range of fresh food available and how tasty it is.
The negative reviews are few and far between stating that the food is overpriced and that the wait times are too long.
Leave Your Own Review Below
If you would like to leave a review or comment about Selbys Neston then you can do so below. All comments are subject to moderation before publishing.