If you looking to give a puppy a good home and looking for a cheap or free dog then I want to help you. I can start by saying if you have come from a search for "puppy free to good home Tyne and Wear" or something similar then you likely will be led up a garden path because a better search term for finding a free puppy would be to adopt a puppy or dog and here's why.
What is the best website to find a puppy?
If you put the word "free" into your search you will get a lot of classified ad sites and whereas these have their use you will usually get unregulated dog breeders and cross breeds, plus you will likely find full grown dogs rather than puppies.
I've tried to take the burden away from you having to crawl these websites looking for a puppy by doing the research on your behalf and I can tell you 4 things:
You won't find a puppy
The dogs you find won't usually be anywhere near Tyne and Wear
They won't be free and you'll usually pay over the odds
You would be better to adjust your search in Google and expectations.
With one exception – https://www.newsnow.co.uk/classifieds/dogs-puppies/tyne-and-wear this site does have quite a lot of choice of dogs in the Tyne and Wear area, particularly around the North Shields, Sunderland and Gateshead areas although, again, none are puppies and none are free.
I recommend the following websites for you instead:
1. Pets 4 Homes
https://www.pets4homes.co.uk/adoption/pets/local/newcastle-upon-tyne/
At the time of searching (December 2020) Pets4Homes have 9 animals for adoption, 2 are cats, none are puppies.
Nevertheless Pets4Homes is a great website to find a dog, this is the site where we four our lovely Cocker Spaniel Baily a few years ago.
2. RSPCA
https://www.rspca.org.uk/findapet
The RSPCA site at the time of writing has 80 dogs in the Tyne and Wear area.
I recommend you check their website and perhaps give them a call before you pay them a visit.
Here is the local Newcastle and North Northumberland brand website and details:
https://www.rspca.org.uk/local/newcastle-and-north-northumberland-branch
3. Dogs Trust
https://www.dogstrust.org.uk/rehoming/
Dogs Trust is similar to the RSPA but they specialise in dogs, we got our first dog Milo from here about 5 years ago but sadly he died (nothing to do with Dogs Trust).
They are a great organisation and try to rehome every dog they get after a period of adjustment so they feel same and are ready for re-homing.
Sadly, there doesn't appear to be a branch for the North East but if you visit their website and make the effort to visit the branch after picking out a dog it will be worth your time.
Why is it so hard to find a puppy to adopt?
Puppies are in high demand, especially recently during the lockdown and people are looking for something to distract themselves with.
It's simply economic, a demand for the supply of something will invariably increase the price of the product and this case the price is the dog itself.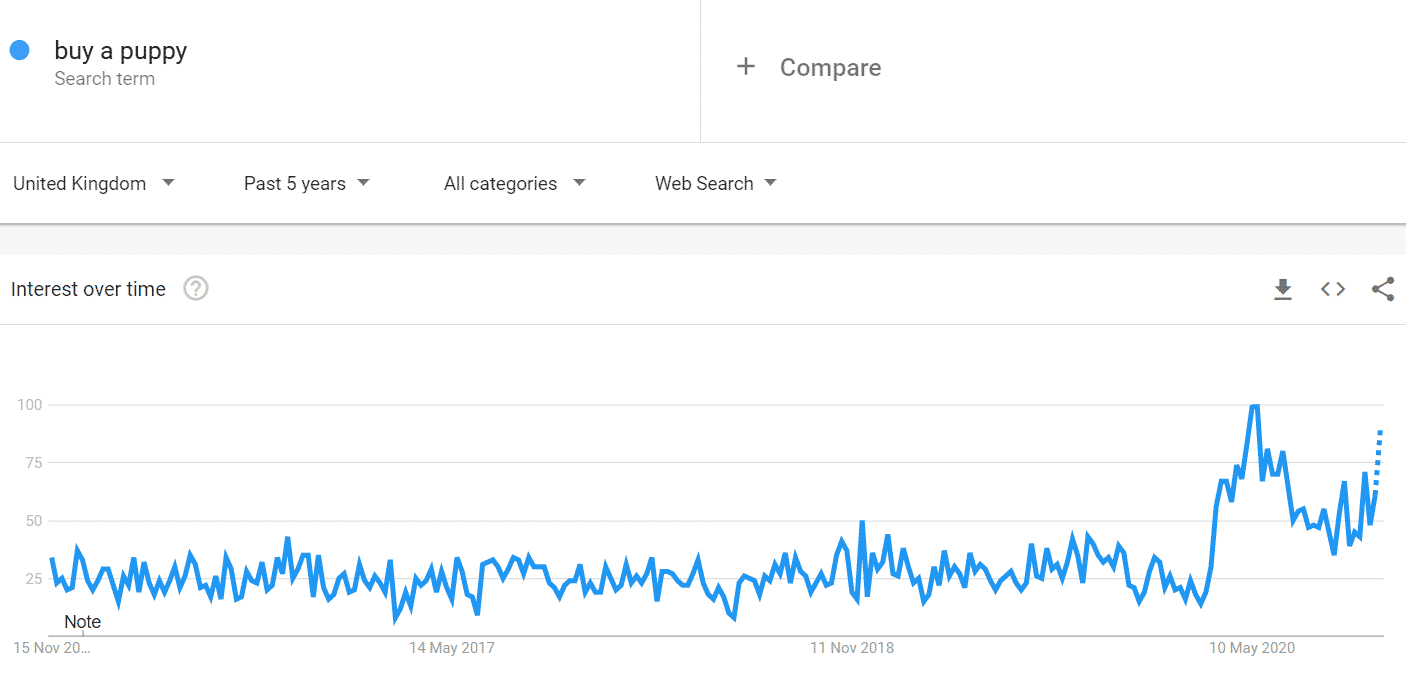 Unless dog breeders went into overdrive at the beginning of the lockdown there are only so many puppies available and therefore scarcity combined with a high demand means that dogs and puppies are more expensive than ever and puppies are being reserved way before they are due to leave their mother.
However, I haven't seen an increase in price on the sites I recommended above which generally just charge an admin free for the adoption and so, again, this is why I cover the following point.
Should I adopt or buy a puppy?
My personal recommendation would always to be adopt an older dog but I do understand why people would want to buy a puppy, this is something I have done myself. I bought a cocker spaniel simply because I like the breed and I have 2 young children and didn't want to introduce an older dog into the household.
You will struggle to adopt a puppy. As already stated the demand is always high anyway but during the recent panademic the demand has been unprecedented.
Using the websites I have shown above you may find a dog to adopt (and you will really should consider this, to give all dogs a new lease of life) but you will be very lucky to find a puppy for free.
People also ask:
How can I find a puppy for free?
This article shows you that you will struggle to find a puppy for free, instead you should consider adopting an older dog. If this is something you don't want to do then expect to pay a very high price for your puppy because right now demand is outstripping supply.
How much should a puppy cost?
It varies from breed to breed and price range from £800 to £7000 depending upon where you look and your particular requirements .
What is the cheapest puppy?
Usually this is cross breed dogs (mongrels) because there is a higher demand for pure breeds with a proven history.
How do you ethically buy a puppy?
You should always go to a registered kennel club dealer and ideally meet the parents of the puppy. You should never buy a dog / puppy from a pet store – please don't do this!
How do I get rid of a puppy?
As shown in this article if you put a classified advert up you will be in the minority of people genuinely advertising so your puppy will be released very quickly. Whether you want to make money or not is up to you but please be considerate for the puppy about the home you give it to.
Ideally you should visit the new home and check it is suitable for a dog, this includes a garden / yard to run around in and local fields for walks. The owner should never leave the puppy or dog in it's own for any long length of time either so make sure there would usually be someone at home otherwise the puppy can become distressed which may lead to complications within the home and the dog being re-homed.
Summary
You have a lot of choice where you look for a free puppy online in the Tyne and Wear area but you probably won't find one because they are in so high demand.
If you do manage to find a puppy then it likely will not be free, if you do find a free one then you will be competing with a lot of people for it.
With the search term "puppy free to good home Tyne and Wear" you should expect to see a lot of classified adverts so a better search term would be something more related to being able to adopt a dog in Tyne and Wear.
There are a few good websites that cater for this but you should expect to have to travel to visit the dog you choose and I recommend that you phone the rescue centre or breeder beforehand.
Remember that dog prices have soared during the lockdown as demand has outgrown supply and that if you want to buy a puppy you should expect to pay quite a lot of money.
Please be considerate about your home environment before bringing a new dog into the family. Ensure you will always have somebody with the dog as frequently as possible otherwise this can cause issues with the dogs behaviour.
You should have an suitable environment for the puppy or dog to be housed to, ideally this would be a large garden for a run and local fields where you can walk the dog.
Also, see puppies free to good home Perth and find a puppy in Wirral and give it a free good home .
If you can help in any way to rehome unwanted puppies and dogs and would like to appear on this post then please get in touch and I will add you.